Life's bittersweet essence
BS Chauhan's 'Rajan Ki Mahi' is an inspiring novel of a young girl's personal struggles and successes in life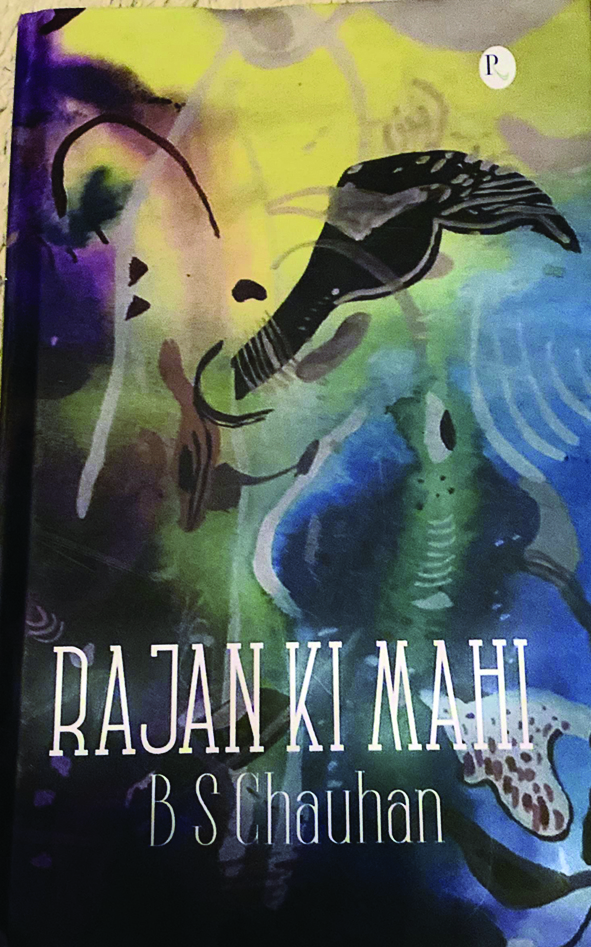 Bureaucrats are known to run the country. As public servants, they have an acute understanding of the ground realities of our society. A few like BS Chauhan also have the gift to embellish this reality with imaginary richness in a racy fiction.
After clearing the Indian Economic Service Examination in 1980 and working in the Planning Commission, Chauhan cleared the Civil Services Examination in 1982, and is presently working as Media Advisor in the Office of the Comptroller and Auditor General of India. In the intervening period, Chauhan had joined the PMO as Director during one of the most tumultuous periods of contemporary Indian politics, and went on to serve four consecutive Indian Prime Ministers — PV Narasimha Rao, IK Gujral, HD Deve Gowda and Atal Bihari Vajpayee.
He has also had a long stint with Parliamentary Affairs when he became the Officer on Special Duty (OSD) to Lok Sabha Deputy Speaker, PM Sayeed, with whom he worked for two full terms. Thus, apart from handling media for about four decades among whom he's regarded as an institution, Chauhan has been writing short stories and novels, his latest is 'Rajan ki Mahi' (Rajan's Mahi).
The story plot in his novel follows the journey of life of a young girl called Mahi, who leaves her mother behind to join a boarding school in Dehradun at a young age of 10. Madhu, her mother, runs a milk booth to make both ends meet after her husband passed away. It was a chance meeting with Rajan, who regularly picks provisions from her store, that catapults her daughter Mahi into a whole new world, far removed from her mofussil life on the fringes of metropolitan Delhi.
Hope is a decision, and it's to Madhu's credit that she trusted Rajan's advice to give her daughter a chance to get a good education. Rajan soon became Mahi's mentor, guiding her through life's travails, a replacement of the father figure she missed. Mahi's school life is dotted with personal struggles, from keeping up with the class to adolescent turmoil of love and infatuation. But Rajan's calm mentorship keeps her on an even keel, who manoeuvres her to aim for a bigger role for herself.
Mahi's exposure to boarding school sharply contrasts with her life growing up in a poor neighbourhood. Her life, thus, is not so simple and straightforward. After school, for example, Mahi ends up marrying the groom of her cousin, Bhanu, on the wedding day, after she elopes to join her lover. Her default husband, Shamsher, a low-time cop with a violent temper, turns out to be abusive and disrespectful. He is a symbol of extreme patriarchy, from whom she eventually separates to focus on her career.
Mahi pursues a three-year nursing course to find a decent job and lead an independent life. With the help of Rajan's friend Zeba, another well-wisher she regularly confides in, Mahi manages to get a nursing job in a London hospital. Over there, she meets a doctor named David, finds doctor-nurse Mills & Boons romance, and then gets pregnant with his child before their official marriage during the Covid-19 outbreak in 2020. And the icing of her life is that she decides to sit for the civil service exams, and becomes an Indian Police Service officer.
It might be tempting to dismiss Mahi's quick paced up-down personal life, and her about-turn career switch from being a nurse in the UK to becoming an IPS officer in
India as a fantastical and implausible idea. But in a new India, anything is possible if the winds of change are blowing in the right direction.
The book explores familiar experiences of women's marginalisation and the gender politics that plays out both subtly and overtly in our male obsessive society. We would have wished that like daughter Mahi's, mother Madhu's fleeting mentor in the story, the bandit turned Indian Parliamentarian Phoolan Devi, would have got a larger treatment in the novel. But in general, like a hall of mirrors, the characters of the book are realistically fleshed out as it can ordinarily happen in the Indian context.
In many ways, 'Rajan ki Mahi' follows the same thread as Chauhan's short story collection – the complex societal issues faced by Indian women. His story, 'Beti ko Talashti Ankhein', for example, was about an unwed mother who is condemned to live apart from her illegitimate daughter against her wishes, while 'Pagli ki Bhagya Rekha' was retold through the eyes of a homeless woman who ekes out a living as a surrogate mother — a womb for rent to make, not hers, but other folks happy. The chances of life and death are a constant leitmotif in his stories (like in 'Heart Attack') and he explores these philosophical and psychological thoughts of people who encounter near-death experiences with alacrity.
Extraordinary love stories (like in 'Chachi ka Aalingan') as between an adolescent boy and an elderly woman without the moralising and extreme vigilante are some of the themes he touched upon.
Chauhan's advantage is that he can deftly express himself in both Hindi and English language. 'Rajan ki Mahi' was originally written in Hindi, now translated into English by the author himself and his friend Ashwini Attri, making it widely available to bilingual readers. The English version of the book was published by Rubric Publishing and the Hindi version was published by Hans Prakashan.
This book, grounded in realism, offers us a chance to catch a glimpse of a slice of life of our youth today. In fact, the racy plot has the promises of a Netflix drama for its ability to tell a real-life story that evokes optimism and positivity with equal élan. It is an inspirational story for the young as they chase their hopes in this rat-race world. That — with some luck and hard work — it is possible to achieve one's dreams.