ISL Final: Rising from ashes, Bengaluru aims to script history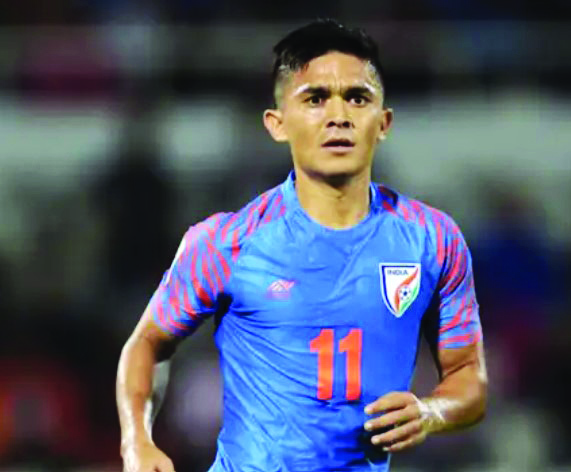 Margao: Bengaluru FC has probably been the biggest name in Indian Football in the last decade. Since its inception, they have won three I-League titles, two Federation Cups, a Super Cup and an Indian Super League (ISL).

After winning ISL in 2018-2019, last three years has been slightly topsy-turvy for the team.
Eventually, the Blues have risen from ashes and came back strong this season with 11 wins in a row and are aiming the ISL title.
What better time it could be than this, which can mark the end of talismanic footballer Sunil Chhetri.
Even though the start was rough, Bengaluru's campaign this season has produced one of the most incredible turnarounds in Indian football.
After failing to attain a semi-final spot for two consecutive seasons, Sunil and his team had their aim firmly set on a return to the top of the ISL after being triumphant in Durand Cup at the beginning of the season.
The star footballer of the team want to capitalise on the form. At some point of time, they were languishing at the bottom, their first victory came against ATK Mohun Bagan FC. Coincidentally that was Bengaluru's first win against Kolkata's giant club in ISL.
Two rival clubs have produced some great matches in the past.
Considering ATK Mohun Bagan FC to be one of the toughest opponent, the Indian captain has his target set. Sunil Chhetri said: "It has been an outstanding season. We try not to speak about credits, but what we have achieved as a team is incredible.
Six wins, 2 draws were needed, but we have won 7 straight games and qualified," India's star striker Sunil Chhetri said.
He also said: "We aren't thinking about rivalry between two clubs. Last 10 years of our history, ATK Mohun Bagan has been our toughest and most cherished opponent. But all rivalry is in the past, tomorrow is a new game."
Is Chhetri the only barrier between trophy and ATK Mohun Bagan?
The charismatic striker doesn't believe so.
"I wish I was that important. Although it seems like I stand between ATK Mohun Bagan and trophy, its about the whole team. We just want to win the trophy.
Mantra and directive from the coach was simple. Last 10-11 matches we were a good unit. We have to continue doing the same.
Till some point we were not clicking," he said.
"Once we started doing well, all came to the party. Youngsters are doing really well. Tempo of training is high.
Collectively we did not do good in the starting games. Before East Bengal game we were very low.
From North East match things changed. The fact is, it was hurting us as we did not want to be there. Reputation was on the line, national team call was also on the line," the player added.
In Bengaluru's present style of play, Sunil doesn't stand a chance to be in the first eleven. Even in a high voltage final like tomorrow, he has to warm the bench at the start of play. How difficult is it for a player like him?
Sunil said, "I'm not happy ever to be on the bench. Whether whatever match it is, be it Tennis, Carrom, Ludo or something else, I want to be in the team.
The chat I had with the coach was simple and straight. Whenever I feel sad, I try to stay calm. I have understood that there is nothing personal. He is very clear in his thoughts and really wants to win. This is common between he and me. Whenever there is an opportunity, I want to go in. I wouldn't have wanted this way, but I will take it easily. Whenever chance comes, I want to give my best."
Bengaluru FC gaffer Simon Grayson admitted, this has been one of the toughest decision to make in his coaching career. ATK Mohun Bagan will have a lot of support in the stands of Fatorda (suburb of the city of Margao). Sunil believes, that will not make much impact considering they have played in this situation before.
Bengaluru have done an uphill task considering their start to the season. But the icon of Indian football doesn't want to stop here.
Sunil said, "Mumbai won 12 matches in a row and they are best ISL team ever. But no credit is given to us after winning 11 games. Until you win the finals, it is going to be forgotten sometime. Ethos and atmosphere in the club is great. We want to continue that."
Chhetri's legendary father-in-law is a die hard Mohun Bagan supporter. When asked who will he support tomorrow? Sunil was quick to reply.
He said, "I will forgive him if he supports Mohun Bagan tomorrow. He has been a legend of the game. So, I have no problem in whichever team he supports. But my wife will support me everytime wherever, whichever club I am playing."
Gurpreet Singh Sandhu had a great outing in the semi-final against Mumbai.