Australia enter semi-finals for 12th time on trot, beat Spain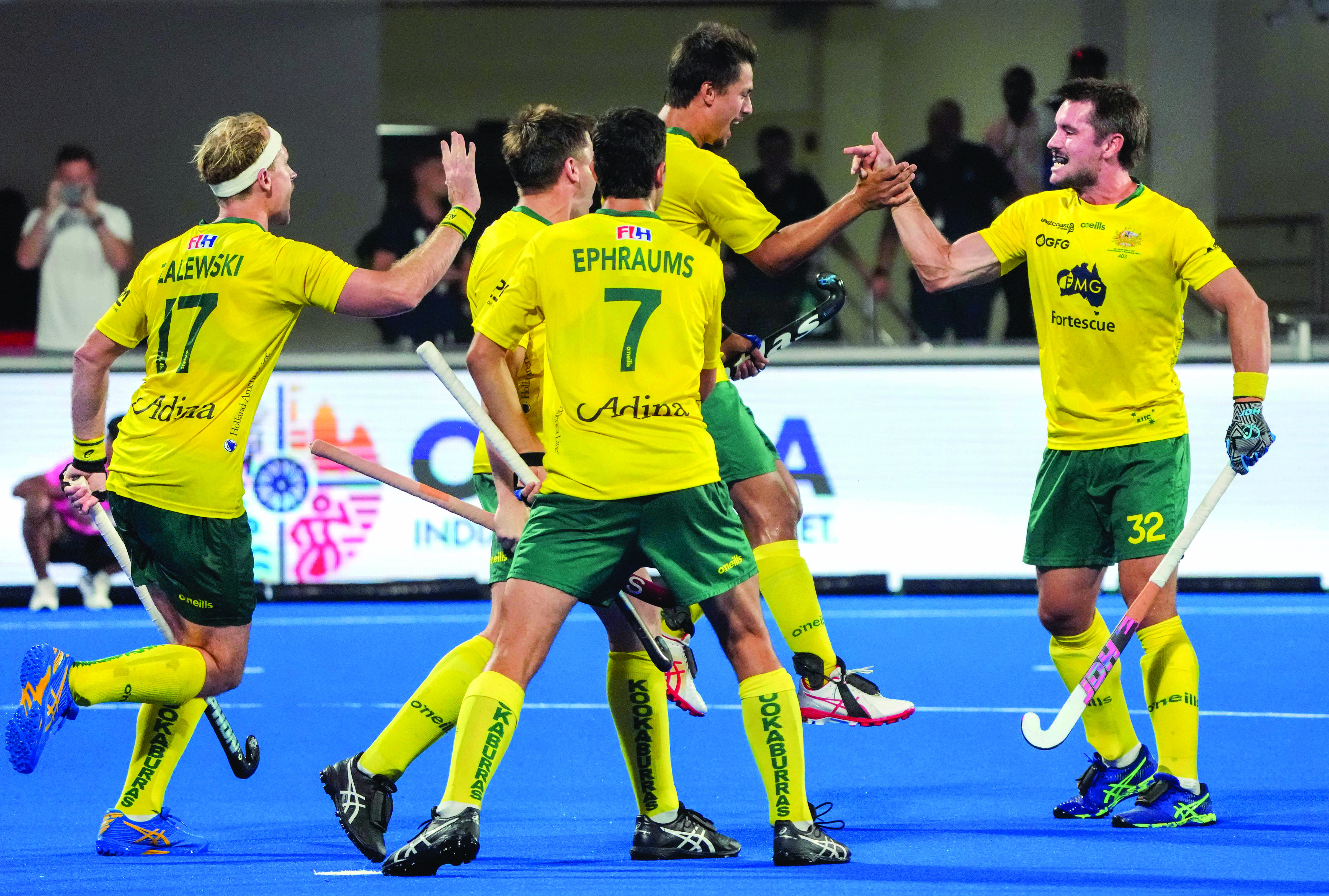 Bhubaneswar: Jeremy Hayward struck twice from the penalty corner as title favourites Australia eked out a narrow 4-3 win over Spain and enter their 12th straight semifinals of the FIH Men's Hockey World Cup here on Tuesday.
Winners of the 1986, 2010 and 2014 editions, Australia have made it to the semifinals of the World Cup on 11 occasions since the 1978 tournament in Buenos Aires.
Spain captain Marc Miralles committed a costly mistake in their quarterfinal match as he failed to score from the penalty stroke four minutes from the final hooter, when his team was training 3-4. Had he scored, the match would have gone to the shootout. In the semifinals on Friday, Australia will face the winner of Wednesday's quarterfinal match between the Netherlands and South Korea.
Australia had lost to the Dutch in the semifinals in a penalty shootout in the last edition here in 2018. Hayward struck in the 33rd and 37th minutes from penalty corners while Flynn Ogilvie (30th) and captain Aran Zalewski (32nd) scored field goals for Australia.
Xavier Gispert (20th), Marc Recasens (24th) and Marc Miralles (41st) were the goal scorers for Spain who will head home now. They had finished a lowly 13th last time.
Spain prevented Australia from playing their fast-paced, one-touch game in the first quarter and held on to their own. Australia were, however, the more dominant side as they got three penalty corners in the first 15 minutes but could not convert even once.
Penalty corner specialist Blake Grover took two without any success while Jeremy Hayward flicked once for the same result as the two sides were locked goal-less at the end of the first quarter.
But Spain sprung a surprise in the second quarter, scoring two goals as against one by Australia. At one point in time, thoughts of an upset win could have crossed the minds of the sizable crowd at the Kalinga Stadium.
The European side were leading 2-0 till the final minute of the second quarter.
Spain scored two fine field goals through Xavier Gispert and Marc Recasens to go 2-0 up in the 24th minute. But with just a few seconds left in the second quarter, Australia pulled one back after Flynn Ogilvie found himself unchallenged in the Spain striking circle from a Matt Dawson
pass. Ogilvie struck hard and beat the goalkeeper to ease the pressure piling on them.
If Spain were the better side in the second quarter, Australia were clearly the dominant team in the third, as they struck three of the four goals scored in that period.
There was a three-goal burst in the space of five minutes for Australia as Aran Zalewski found the target in the second minute of the third quarter before Jeremy Hayward struck twice, in the 33rd and 37th minutes.