Sri Lanka: A year on
Life inches back to normalcy in Sri Lanka as the nation plans to pay off its debt while its people keep hope alive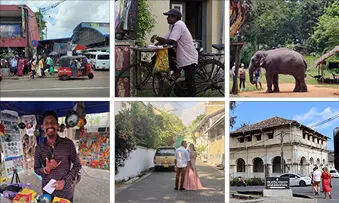 A few months ago, when the World Happiness Report was announced, it was shocking to note that India's neighbours (Sri Lanka and Pakistan), both considered unstable due to recent economic crises and/or ongoing political turmoil, had ranked better than us. How was that even possible? For all our problems of high inflation and unemployment rates, our country was surely on much better footing economically than others in the sub-continent. Were the parameters of measurement skewed against us? What drove these nations in distress to be happier than us? When I got the chance to take a quick break, curiosity got the better of me and I chose Sri Lanka as a travel destination. The intent was to learn and observe first-hand what made the island country rank at 112 when India came in at 126. It seemed fit that it came exactly a year after the economic crisis.

To dial back a few months, Sri Lanka was sinking in monetary quicksand last year. In early 2022, prices of essential goods were skyrocketing, fuel was in short supply, and there were frequent power-cuts. Exactly a year from the time of my visit, protests had started in the capital city of Colombo and the discontentment had spread to other parts of the country. There were no foreign currency reserves to import fuel, the country was crushed under the burden of international debts, and for the first time in May 2022, Sri Lanka defaulted on interest payment of its foreign debt. Schools shut down, people were asked to work from home and conserve supplies, petrol and diesel prices surged. President Gotabaya Rajapaksa was forced to resign, Prime Minister Ranil Wickremesinghe took over, and declared a nation-wide state of emergency. India backed the bailout package with guarantees issued to the International Monetary Fund (IMF) and has extended a USD 1 billion credit line to the nation. The protests have died down but the country is not out of the woods yet. It will have to navigate out of the economic crisis, achieve debt restructuring by September, and work towards a healthy economy ridding it of past mismanagement and wrong economic policies that encouraged imports rather than exports.
The Covid-19 pandemic was disastrous for the country widely dependent on tourists. Just a year prior, a series of deadly bomb blasts on Easter Day in 2019 had killed 269 people. The pandemic further sealed the fate of the advent of tourists. But the ground reality is turning for the better. As a tourist this year, I faced no problems at all. Local travel was smooth, hotels were spic and span, and foreign tourists seem to be more than trickling back. And the people were as polite, smiling, and hospitable as the last time that I visited eight years ago.
The few days that I spent spanning the capital city, seaside town of Galle, and historic Sigiriya proffered several opportunities to speak to local Sri Lankans. Sure, times are still hard, and most complain of high prices (by the way, fuel prices there are still lower than what we pay in India) but the optimism is unmissable. Even at the height of the crisis, the roads, thoroughfares, bus stations, and tourist sites are spotlessly clean. It's not that the cities are completely bereft of garbage, but you'll struggle to spot it. The people's hospitality and sense of service is untouched by the hardships of a year ago. In fact, they welcome more warmly with a greater desire to please than before.
The experience of beautiful locales, the scenic beaches of Unawatuna, the quaint cobbled lanes of Galle Fort, the majestic Lion Rock of Sigiriya is only further embellished by the people. Starkly different from their bloody past of civil strife, the local Sri Lankans are largely peaceful, calm, and extremely well-mannered. Their lack of day-to-day aggression professed in their speech, body language or even the lack of honking traffic, truly stands out. Their life may have changed in the last few years but there is still a palpable sense of cheerfulness among the folk. Rasik, an artist in Galle, spoke of hope while selling me hand-painted fridge magnets. The lack of tourists hit the artist community hard. A father-daughter duo selling art made on antique wood from traditional temple doors spoke of the strenuous task of earning a livelihood. Just a moment spent on life's exacting reality and only because I asked, before they laughingly regaled me of their exhibitions in Faridabad's famous Surajkund Crafts Mela. You'll come across many Indophiles in Sri Lanka; they are keen to speak in Hindi, quick to rattle off names of Indian friends, or relatives in ethnically conjoined Tamil Nadu. Navida, a hotel staff in Sigiriya, amazed me with this near-perfect rendition of the Indian national anthem. He actually stood in the dinner hall and sang, softly enough, for me to hear him before moving on to a detailed critique of his favourite hero's latest film — Shahrukh Khan's 'Pathaan'. Many such delightful tales and anecdotes peppered my travels and created indelible memories of truly wonderful people.
Perhaps it's the calming influence of Buddhism that keeps the average Sri Lankan well-dispositioned than others in spite of their trials and tribulations. But most definitely the reason behind their happiness is their scant population. Consider this, the entire population of Sri Lanka (approx. 2.2 crore) is less than the population of Delhi (approx. 3.2 crore). The strain of overpopulation on resources, government spending, and taxes collected in a country like India is enormous. We are bursting at the seams with very little to go around for everyone. It's not surprising that we rank lower than nations like Pakistan, Sri Lanka, and even Ukraine, because there are that many more mouths to feed. In recent years, and thanks partly due to the pandemic, more sections of the population have been pushed back into poverty. The rich get richer, the middle class get taxed more, and the poor keep losing hope. There are more people fighting for 'roti, kapada, aur makaan' (food, clothing, and housing); a plight that gets exacerbated in times of exigencies like during the pandemic. So, why won't we rank low on the global happiness index?
The writer is an author and media entrepreneur. Views expressed are personal