Break the silence
As fresh allegations of sexual harassment now come from Indian wrestling, it's time for higher-ups to show zero tolerance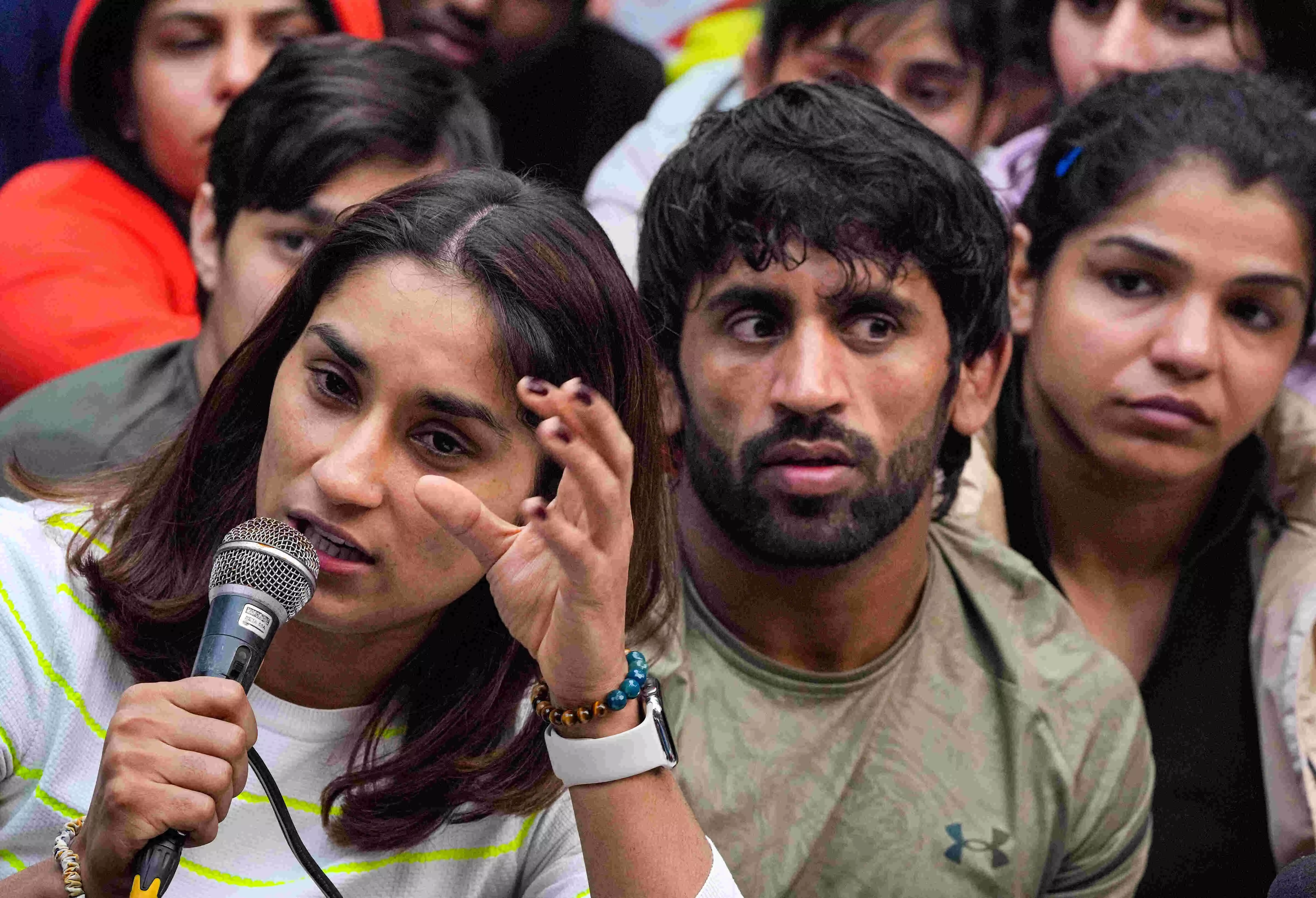 In today's instant and transactional world, is there a place for morals? It's become almost an obsolete idea that no one even brings up anymore. Political and corporate speeches don't mention it, social media discusses more about YOLO (you only live once) than about morals, and the word and what it denotes seems akin to a relic. But there is still a case of right and wrong in life. And the need for a moral position; something that seems to have dissipated into thin air with passing time.

Sexual harassment is one such instance that needs zero tolerance and an immediate profession of the moral position of the authorities. This week, we witnessed one of India's leading female wrestlers, Vinesh Phogat, rock the nation accusing the head honcho of the Wrestling Federation of India (WFI), Brij Bhushan Sharan Singh, of alleged sexual exploitation. Thirty-one wrestlers, including elite ones such as Sakshi Malik, have been on a protest demanding the disbandment of WFI. Joining ranks with their female counterparts are also wrestlers Bajrang Punia, Ravi Kumar Dahiya, and Deepak Punia as they also demanded the resignation of the WFI President. Around the same time and also in the same state, the Haryana Minister of Sports and well-known former hockey player, Sandeep Singh, was accused of sexual harassment by a woman coach.
Sexual harassment is so rampant in India and its concealment so acute that sometimes it feels like a losing battle, especially for the women. However, what further exacerbates the frustration is the silence that ensues. If a powerful man is accused of sexual misconduct, he will try his best to cling on to his position. That would be understandable behaviour from a base human being who is devoid of scruples and a conscience. There are very few who would accept the misdemeanour, apologise, repent, pay. There are many accused around the world who display this moral turpitude, in India that number is even higher. Almost every accused quickly denies the allegation, resorting instead to coercion and intimidation, lawyering up to file malicious lawsuits, and in general, further harassing the complainant. And while this farcical drama plays on, there is of course, that pin-drop silence from the higher-ups.
Now these higher-ups could be corporate bosses or top political leaders. But their silence is universal. As the cries and protests of sexual harassment increase, so does the muteness of the authorities. There is never an immediate suspension and almost always the accused carries on in some capacity or the other. Public pressure may force a Union Minister to resign as we witnessed a few years ago during the #MeToo movement. But they are never really fired. Even when an FIR has been registered as in the case of Haryana Sports Minister Sandeep Singh. He gave up his portfolio but still retains his ministership.
The silence that follows any allegation of sexual harassment is deafening. It feels almost as if a quiet persuasion or gentle nudging led to the accused giving up their position of authority. Sometimes, as in a case of a recent corporate case of sexual harassment, the victim was served a gag order, which barred her from speaking publicly about the case. The Mumbai-based corporate behemoth took no action against the CXO-level employee against whom the charges were levelled. Even when the internal committee instituted by the company gave the accused a clean chit, the young woman still continued to fight. After a couple years of litigation and by the time the criminal FIR was registered last year, it was time for the accused to retire. Even the FIR was registered only due to the tenacious perseverance of the victim. Normally, this would make for an interesting story for the media to pursue but due in part, to the gag order and strong corporate influence, the story was barely reported. And there too we notice the silence.
Look, investigation and law must follow due course but nowadays there is no public statement to decry sexual harassment as a whole. When there are complaints, no party colleague or senior employee will internally or externally criticize the situation. We know that grandiose statements may deliver very little in actuality but they still proffer some assurance to the complainants and other women. "We have zero tolerance for sexual harassment and the guilty, if proven, shall have their comeuppance" — that's all that we want to hear. In a country that champions 'Beti Bachao Beti Padhao', the least that we can do is take that moral stand. Offer the women support and courage, and then follow up with action. But before that, declare unequivocally that there is no place for sexual harassment in our company, administration, or government.
The writer is an author and media entrepreneur. Views expressed are personal