Will act against Adani Group for 'malpractices' in apple pricing: Himachal Horticulture Min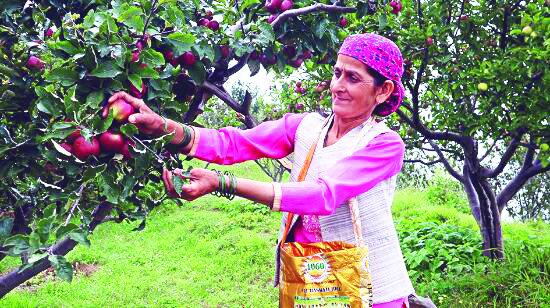 Shimla: There seems to be yet another trouble brewing for the Adani Group in Himachal Pradesh under the Congress government.

As the group came under attack for exploitation of the apple growers—which was also an issue in the last year's Assembly elections, the government assured to protect the growers' interests.
"If there are malpractices and violations of the Agriculture Produce Market Committee (APMC) Act, the government will certainly take action against the group," said minister for horticulture Jagat Singh Negi in the state assembly on Tuesday.
The government also informed the House that Adani Group got Rs 15.98 crore subsidy from National Horticulture Board to set up three Cold atmosphere stores in Himachal Pradesh from 2008 to 2011.
When Congress MLA Kuldeep Rathore (Theog) – himself an apple grower, asked if there was any MoU signed with the group when CA stores were established in Himachal Pradesh, Negi categorically said there was no MoU signed with the group to lay down conditions.
"A subsidy of Rs 1,598.79 lakh was provided to the group by National Horticulture Board to Adani Group through NABARD but no MoU was signed in this context," he added.
Rathore alleged that the group was given all permissions by the state government and helped to set up CA stores in the hope that entry of the corporate group will save the growers from exploitation by the middlemen.
"What has happened is completely unexpected. Adani itself has resorted to malpractices and exploitation of the apple growers. Initially, the group used to announce the rates for apple buying at beginning of the season but as they progressed they resorted to tactics of announcing apple procurement rates in the middle of the apple marketing season on the lower," he alleged.
Rathore quoted that for example the apple boxes were sold at Rs 3,000, the price had crashed to Rs 1,500 or else after the group announced the rates.
The congress MLA recalled that he had to stage a dharna against the group to ensure that the farmers are given remunerative prices for the produce.
The Adani group, he said, had been manipulating apple prices by causing a slump in the markets.
Rathore wondered that if no MOU was signed at the time when the CA stores were established, the government can signed an MoU now in the wake to stop the manipulation in the apple markets.
After all, it's a matter of regulating the prices of the apples that is an economy of Rs 5,000 apple economy.
The former Congress president recalled that the Adani group was allowed after giving an exemption under Section 118 of the Land Reform and Tenancy Act to see that exploitation by the middlemen and commission agents was stopped.
Now, instead, the group has been found manipulating the market and hitting the interests of the growers in the state.