'Serving our own men on behalf of govt can be very satisfying'
Considered to be one of the finest police officers amongst his peers and subordinates, IPS Soumen Mitra talks about his childhood, his interest in sports and heritage, qualities of a good cop and relevance of the Indian Police Service in today's time and age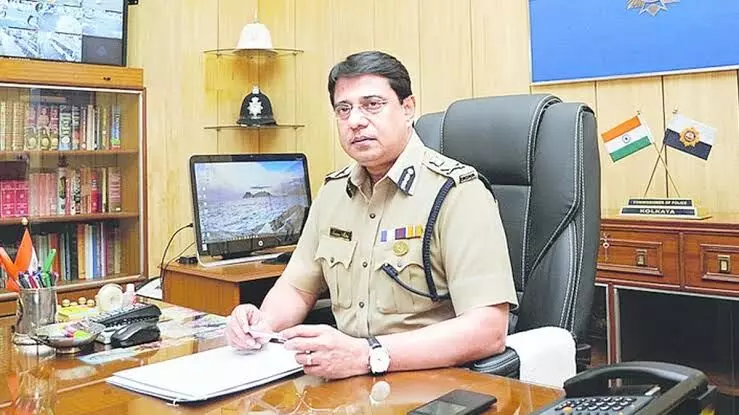 Antisocial work hours, long days on your feet, dealing with some of the most nefarious criminals, ensuring law and order and the countless sacrifices made by our police force contribute to make this world a better place. All this, coupled with unmatched grit and guts, gives a completely different dimension to the definition of a cop. More so, in the case of Soumen Mitra, currently Officer on Special Duty and Director, Training — a name synonymous with integrity, discipline, compassion and empathy — not to forget his strong affinity for history and heritage, all contributing to incredibly thrilling crime compendiums (if compiled, ever).
Into the introductory minutes of the conversation, Mitra talks about St Xavier's School and St Xavier's College from where he completed his Plus 2, going on to complete his Graduation from Presidency College and then doing his MA and MPhil from Jawaharlal Nehru University (JNU), New Delhi.
"In school, I wasn't very good at studies. I was very interested in sports and represented my school in football, and cricket; also, my college," he says.
"I always wanted to join the Civil Service, sat for the examination and then got selected for the Indian Police Service. This is my first job and my only job."
A 1988-batch officer in the West Bengal cadre, Mitra has held a vast number of posts, including his two stints as the Commissioner of Police, Kolkata.
Discussing the qualities of a good police officer, he says: "It is very important to have empathy for the people in general and fellow feeling. Also, in the case of criminals, a good police officer should always try to bring them back to the mainstream. One should also be professional and impartial, and try to be very fair while dealing with his own men and the people in general."
So, is it still a coveted job? "Any civil service is a good job for youngsters. Serving our own men on behalf of the government can be very satisfying. One can do a lot of things in bringing about change and happiness in the lives of many," he adds.
A thorough gentleman; a person who will go through life adhering to the straight path; a man true to his rulebook and uniform, one who will not do anyone's bidding and will never bend backw=ards to please anyone, Mitra commands the respect of the rank and file, something that is a rarity in today's time and age.
His personal initiatives include several social welfare schemes, wildlife conservation, rehabilitation of heritage buildings and heritage protection apart from masterminding the recovery of the Kolkata Police Museum and many police stations and traffic guards throughout the city.
Mitra, while being posted at the West Bengal Police Training Branch in Barrackpore, had taken up the restoration of the Government House and garden that had been a police hospital after Independence. Such immense history, which lay buried in the mud and debris, came to life with the Minto fountain, the lotus fountain, and the 'Moti Jheel' being carefully resurrected by him. In hindsight, he has always created a positive imprint in heritage conservation wherever his job has taken him.
Talking about recommendations for further improvement of the system, he says: "Attitudinal change is very important along with following the recommendations of the various police commissions and reforms. I think our force and officers along with the whole police system would be much better if their suggestions are incorporated."
Apart from the many challenges of the job itself, mental health has emerged as a major concern, especially after Covid.
He elaborates: "Understanding it (mental health) has become very crucial. We do not have the patience and empathy to understand those who are in such a situation. People are more involved with physical health but in the present scenario, for various reasons, mental health has become a major challenge and we do not have the wherewithal to tackle the same. That itself is a major issue."
From his days as a young probationary officer in Darjeeling till date, Mitra has had countless experiences as a police officer. From dealing with transborder smugglers in Darjeeling and Siliguri to handling criminals and the mafia in Asansol and Barrackpore, he talks about two specific cases during his tenure with the Detective Department in the Kolkata Police.
The first was the Calcutta Stock Exchange (CSE) scam in March 2001 and the other being the 2002 attack on the American Centre in which four policemen died on the spot while 14 of them were injured.
Immensely popular amongst his peers and subordinates, Mitra's vision and thoughts resonate amongst many in the police force, providing the much-needed thrust to keep the men in uniform out of the yoke of political obtrusion.