The sari bond
Sari, an unstitched attire, stitches families together in a nostalgic bond and beautifully bridges emotions across generations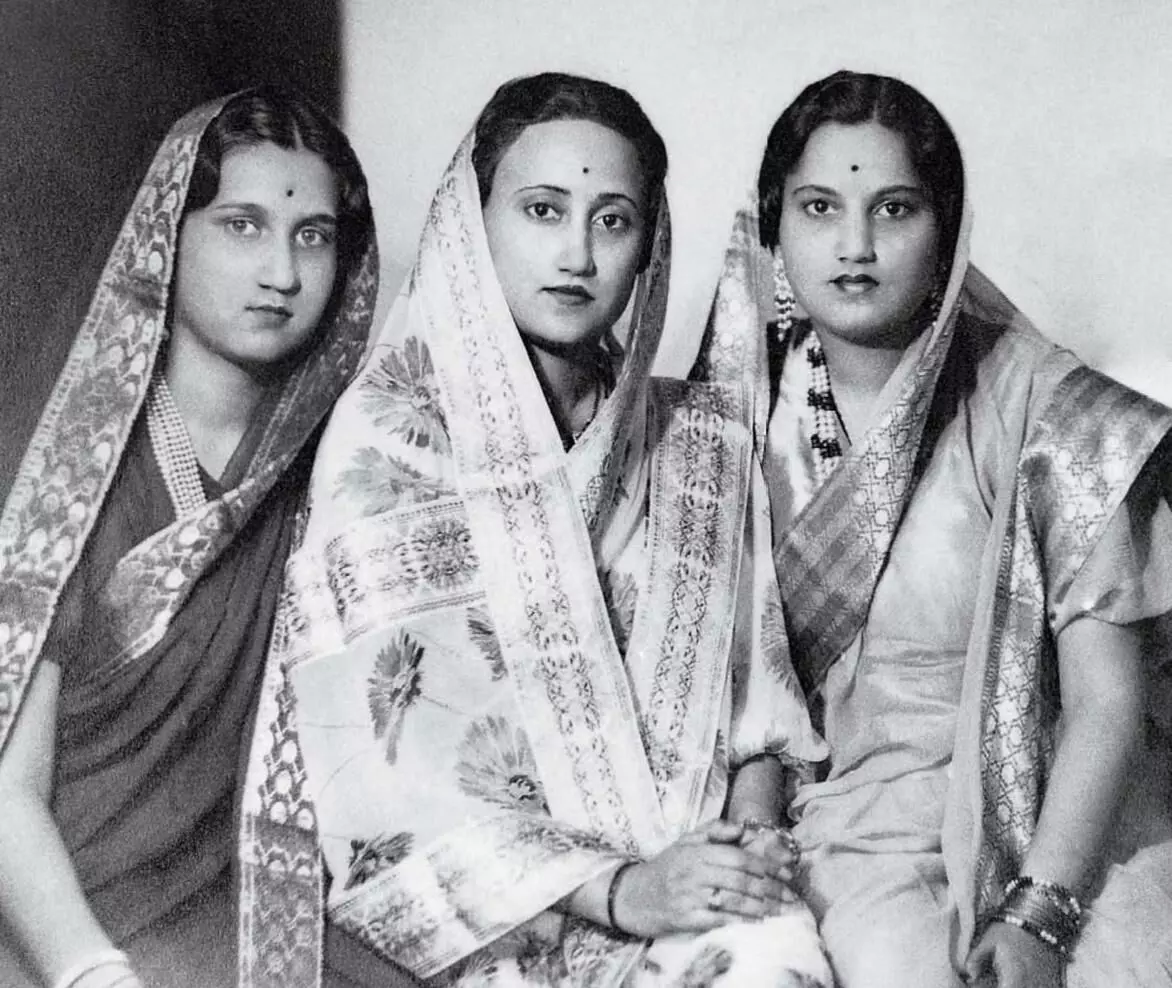 Recently for a friend's son's dholky the theme was sari and my good friends insisted I wrap one too. So after nearly 23 years I decided to give it a go, the treasure hunt began and as I scavenged through my historic "hold dear stuff " I did find my mummy's sari folded so perfectly as if she knew that one day, I'm going to need it. Inside the wraps was the matching blouse, it was like a comforting whisper saying you don't need to worry, it's all here. As I opened the never-ending 9 yards single piece of unstitched fabric my nostalgia grew with each fold being unfurled along with my memories.

My mummy loved her Sari's and had an amazing collection, from the time I opened my eyes till the end where my memory takes me before she became frail and just relished looking at her collection, rather than being wrapped in it. She had a summer collection of crisp cotton saris from the different states of India, like Jaipur, Bengal, Lucknow and her winter collection of fine silk, Kanjivarum, Benarsi from Chennai, Orissa, Kanchipuram. Her casual ones, like we wear our jeans and top, were colourful. Her collection had saris for every occasion and not a single colour but shades of that colour like the rainbow. What amazes me now that how could she wrap the nine yards from morning till evening and run the house as well as the outside world with so much ease with comfort like her skin. Today we change outfits throughout the day like jogging, school pickups, workplace, home wear. Looking back, I remember my school sports teacher. She would teach us sports wearing the same unstitched fabric and GOSH!!!!! She was awesome at it, be it basketball or soccer or baseball, she would dribble the ball like today's NBA players. No one back then was judged on the attire they wore, wearing a sari and running around doing your household chores or playing cricket with it did not leave you to be judged and your socio-economic dynamics weren't scrutinised. It was just considered purely as a functional garment which could be worn every single day of your life.
As a kid I used to love seeing my mummy drape and I would mirror her and I knacked the art of wearing the sari probably even before I started school.
University events used to be so exciting as I got the opportunity to showcase my skills, whilst other classmates pinned up and fumbled, I would sway with ease wearing mum's finest pick. I didn't realise why I stopped and how I was so busy in my life that I just left wearing it as if it never was a part of me. My mummy would sometimes feel dismal that both her daughters had nothing to do with the attire she actually lived and breathed in. One day I remember saying to her that can I make a suit out of your sari, the look on her face was beyond expression, it was like I wished to massacre her sari to bring it to death, and after the shocking input from me she said "it's a sari you wear it as one or don't wear it", my answer was written all over her and again the sari curiosity was put aside for me in my head.
As I unfolded the sari I was to wear for my event amidst the emotions going on within me, my eyes fell on the bottom part of the cloth where there was a white mark which immediately clicked in my mind that mummy would have worn this sari for a wedding and whilst eating dahi bara, which she truly enjoyed, she had spilled it on her sari and didn't realise, she must have come home and folded it the same beautiful way she did with her heart and hung it back. My eyes welled and it was so emotional, heart-breaking my eldest son Mubashir looked at me and said mum please don't wash this stain away it's Nanna's, it's her memory. For a moment I was taken aback by his words and then I said I understand your love for nanna but I think she would have been happier if I washed it and wore it and that's what I did. The sari bond is such a strong one passed on through generations, from my grandmother to her mother. It's like an heirloom that goes on and on, a dress which in recent times has come under so much speculation of being misunderstood and judged.
Once I was all done with the sari around me, it was like a comforting aura and it wouldn't have been possible if my friends did not coax me into it. My papa was the happiest, at first, he was sceptical when I let him know that I'm going to wear mum's sari for an event but after a couple of minutes he was encouraging. Later after the function when I showed my pic to him, he said to me I wanted to share with you a few things about a sari that when you wear it you should always have it on with heels and a shawl is a nice accessory to go with it, he said he wanted to share before I left for the event but just held back because of the fact that these words are more apt from a mum not a father. My heart raced and tears couldn't be held back, all this time I thought it was my sari bond with my mother but today I realise it's a family bond, how amazing is it that an attire can wrap us all together so beautifully so comfortingly.
We so powerfully have rested the stereotype and feminist views on sari.
How people pass away but their things pass on to you to help enjoy the moments and continue to make memories and pass it on again.
Thank you for reading
You all now become a part of my sari bond
Love Arshi
The writer is based in Dubai, is a mum of three children and writing is her passion. Views expressed are personal