North-East Delhi riots: SC irked over cops seeking adjournment, says alternative arrangements needed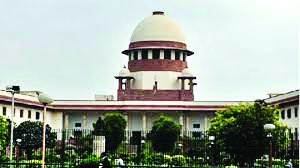 New Delhi: The Supreme Court on Tuesday expressed strong displeasure over the Delhi Police seeking adjournment of hearing on pleas against the bail granted to three student activists in the 2020 North East Delhi riots case on the ground that a senior law officer representing them was busy in another court.

A bench of Justice S K Kaul and Justice A S Oka observed that Solicitor General Tushar Mehta may be busy in several matters, but some alternative arrangements have to be made so that the matter could be heard.
"...if no alternative arrangement is made, we will presume that the government has nothing to say in the matter," the bench said while posting the matter for hearing on February 21. When the pleas had come up for hearing before the apex court on January 17, a deferment was sought by the police stating that Mehta, who is representing the state in the matter, was before a constitution bench. The bench had then posted the matter for hearing on Tuesday, saying, "It is made clear that if alternative arrangements have to be made by the government, they may do so for the next date of hearing."
When the matter was first called for hearing on Tuesday, it was passed over as the solicitor general was not present in the court.
Later, when the matter was again taken up, advocate Rajat Nair, appearing for the police, requested the bench to post the matter for hearing next week, saying the solicitor general was present in the court, but he had to rush to another court for another matter which was being heard by a constitution bench.
"We are supposed to be sitting here.... somebody else should come. The solicitor general may be required in several matters," the bench observed and referred to its last order.
While hearing the matter on January 17, the top court had observed, "We do not believe in unnecessarily keeping people behind the bars."
The apex court was hearing the pleas filed by the police challenging the Delhi High Court's June 15, 2021 verdicts granting bail to activists Natasha Narwal, Devangana Kalita and Asif Iqbal Tanha in the case related to communal violence during the protests against the Citizenship (Amendment) Act (CAA).