A Delhi Police-sized roadblock in victims' path to justice — clubbing of irrelevant, unrelated FIRs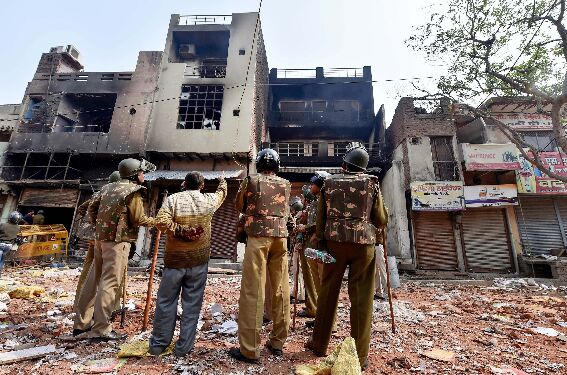 New Delhi: 29-year-old Mohammad Salman's home in West Karawal Nagar was infiltrated by a mob armed with rods and sticks one year ago. The men, most of whom have been Salman's neighbours for years, entered around noon on February 25 last year, threatened to kill his family, vandalised and ransacked his home.
On the same day, Hasim Ali's two-story house in Shiv Vihar was burnt down by a mob armed with rods, sticks and incendiary materials, some of whom he has been able to identify. One floor was ransacked and vandalised and the mob cleared out the other floor of all household items to burn them on his front porch.
And a few lanes away from Hasim's home, 52-year-old Vakil Ahmed lost both his eyes in an acid attack by a rioting mob that was vandalising homes in his lane. "On February 25, stone pelting started in my locality and I was stuck in my house with my family," he said. The second he peeked out of his window to check the situation, a splash of acid hit his face.

A year on, Salman's complaint has been clubbed with that of one Satyanarayan Dev, who said his shop was vandalised, into one FIR and Salman gets threat calls from the accused he identified to take back his complaint; Hasim's complaint has been clubbed with that of one Naresh Chand, who said his home too was burnt down along with his shops, into one FIR and Hasim was arrested by the Delhi Police in the same case for allegedly burning down Chand's home; Vakil's case has been clubbed with that of one Fukran, who said his car was burnt by rioters and Vakil, now blind, has no idea how to proceed to rectify this.

One year after the north-east Delhi riots, an issue that has largely stood in the way of the victims' road to justice is that of clubbed FIRs.
In five such FIRs accessed by Millennium Post, the Delhi Police has attached two vastly different and irrelevant incidents of violence that occurred in the same locality and on the same date, into a single FIR, thus rendering such complainants without access to an independent report on the ordeal they faced last year.
Salman, who has now been forced to live in Dayalpur, claims that local police initially declined to lodge an FIR into the case, asking him to register one without naming the accused persons.
"How can they join another irrelevant FIR with my complaint which is completely different in terms of facts?... I don't even know who the complainant is," Salman said. "My children have seen such violence at such an early age… imagine what they must have gone through."
He remembers how he, his wife and two children, aged four and 10, had to climb up their terrace and hide at a spot for a few hours before jumping onto another terrace to escape the violence.
In Salman's case, a Delhi court had initially ordered to separate his FIR from the existing one, on grounds of it constituting a separate cognizable offence. Police have disputed all his allegations and the court's conclusion in a revision petition which argues that the case does not merit a separate FIR. As for the threats Salman said he is getting, he had written to the area DCP but said no action was taken.
After being arrested by the Delhi Police in an FIR that also had his own complaint, Hasim was granted bail on May 18 last year.
"I had lodged an FIR with the Karawal Nagar Police Station but police attached my complaint under a different FIR under which I was later arrested… they should provide me with a separate document… this is unjust. I should at least get a separate FIR, I have even named three persons…" he said.
Hasim, who claimed that he suffered a loss of around 8 lakhs due to the vandalism, said that despite approaching lawyers and higher authorities regarding the matter, "police aren't arresting the persons I have named and simply come to question a few residents in the locality and go back."
The same is the case of 48-year-old Nisar Ahmed, which had also received media attention last year after he named several persons, including a BJP councillor, in his complaint where he alleges that he saw a mob killing Muslim persons after checking their IDs, who later threw the victims into the Bhagirathi drain.
However, Ahmed too struggles with his complaint which has been merged into a single FIR lodged by one Aas Mohammad who has claimed that his shop in Bhagirathi Vihar was vandalised.
While lodging an FIR, Ahmed has claimed that police allegedly asked him not to name the accused persons.
Meanwhile, he claims that he was initially even denied access to his FIR which was only handed to him after three months after a Delhi High Court order.
In his case, the court has ordered to separate the FIR but the police have now filed a criminal revision petition stating that there is no reason to separate the FIR as contents in both cases are the same.
A year later, Ahmed lives in a constant state of fear as he happens to be an eye-witness to as many as nine cases of murder. "I only rest my faith in the judiciary so that police will have to abide by the order given to separate my FIR," he said.
Throughout the year, time and again, courts have stepped in to order registration of FIRs into cases where police had either closed investigation citing lack of evidence or simply clubbed two or more unrelated incidents into a single FIR.
And while courts have stepped in to order separate FIRs in many such cases, victims like Vakil have no idea how to proceed with getting a lawyer and going to court.
"We never read the contents of the FIR and do not have any lawyer who can get our issue solved...we don't even know who Furkan is in the first place," he said.
Recounting the events of the day his family was attacked, he said, "I thought I wouldn't live to tell the tale... my landlord told me to either run for my life or lock the gates and stay put." He eventually managed to get out of his home with his family and spent the night in a mosque before heading to a rescue camp in Chaman Park.
Vakil's 22-year-old son, Mohd Shamim, however, said on Thursday that they had finally started trying to find a lawyer. He told this newspaper over the phone that they had met a lawyer on Wednesday but are yet to figure out how to choose a counsel.
Apart from these prominent cases, there are at least half a dozen instances where people whose shops were vandalised, have had their complaints clubbed into a single FIR.
In 35-year-old Bano's case, a complaint regarding alleged vandalism and theft of her two-floor house in Shiv Vihar has been merged in an FIR of Karawal Nagar police station, which relates to the alleged murder of a 32-year-old man, one Alok Tiwari, by a mob near the Shiv Vihar Chowk. Bano said that neither she nor any of her 11 family members have read or enquired about the contents of the FIR and hence never got to know that it was merged with a complaint of murder. "We sustained a loss of around Rs 10 to 15 lakh but have so far received only Rs 25,000 as compensation," she claimed.
Senior Advocate MR Shamshad, representing most of these victims who have had their FIRs clubbed, has called out the "consistent effort on the part of Delhi Police to make FIRs of a particular community completely ineffective". "Many serious complaints have been tagged with non-serious FIRs and consequently the investigation on serious matters have become a non-priority".
"They (Delhi Police) are working on two lines, one that they don't register the FIR at all or they register those FIRs as tagged FIRs…this entire process of tagging is without any legal basis," he told Millennium Post.
Lawyers have said that such cases of several complaints being merged into a single FIR are commonplace in cases of major riots. However, they raised questions over whether the inaccuracy in the contents would lead to injustice among the complainants especially in the case of providing compensation to them.
When asked whether the Delhi Police was already aware of complainants with clubbed FIRs, facing such problems, PRO Chinmoy Biswal on Thursday night said he would need to gather specific details of each case from the case investigators before responding elaborately. This response is awaited and will be carried when it arrives.
This is the fourth part in Millennium Post's series on one year since the north-east Delhi riots
Part 1: Delhi Police say 1,753 held but courts heard over 4,347 bail pleas
Part 2: In 100 bail orders: 'Videos' used for arrest in 44; 32 of these failed court scrutiny
Part 3: Of courts' bugbears, most common 'doubtful' police, public witness statements
Part 5: Defence lawyers face an opaque prosecution & an uncooperative probe authority
Part 6: Interactions with police have led to a complete breakdown of trust for many
Part 7: Pandemic response helped us repair relations with the community, say Delhi Police
Part 8: Over 2.7K compensation pleas pending re-assessment — all scattered & none to blame yet
Part 9: Justice an afterthought for families of most victims still struggling to move on
Part 10: Collateral damage: Tales from jail, of abuse & trauma
Part 11: How, when and where it began & why it is missing from cops' theory
This Millennium Post series reports stories that highlight the nuances of how the north-east district has changed, what level of distrust has been sown into the community, how policing has changed in the area, how or whether the victims are coping, the problems they are facing with the criminal justice system and the problems police, prosecutors and defence lawyers are having to deal with in courts -- One year after the north-east Delhi riots that killed at least 53 people and injured nearly 600 others.