My govt instilled hope among citizens by radical changes in system: Haryana CM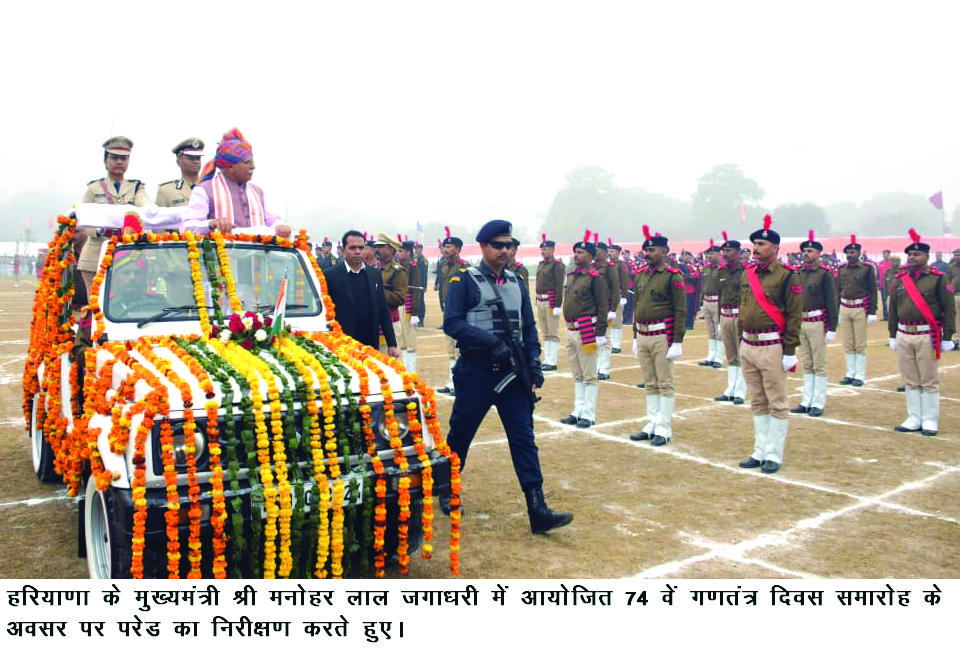 Chandigarh: Haryana Chief Minister Manohar Lal Khattar on Thursday said that in the last more than eight years, the state government has done the work of instilling new hope among its citizens by bringing radical changes in the system while working with a new vision of maximum governance minimum government.

"We have focused on the upliftment and welfare of every individual, as a result of which the graph of the Ease of Living and Happiness Index is continuously rising in the state," said Sh. Manohar Lal while speaking as the Chief Guest at the 74th Republic Day celebrations held at Jagadhari, Yamunanagar today after unfurling the National Flag.
Firstly, the Chief Minister paid floral tribute to the martyrs at the war memorial. He inspected the parade by contingents of Haryana Police, Women Police Contingent, Home Guard, NCC Battalion and Scouts, etc. The Chief Minister called upon the citizens that on this Republic Day, each one of us should take a pledge to keep national unity and integrity intact and work unitedly for the happiness and prosperity of the country and the state.
While addressing, Khattar said today is a great day in the history of our country when we got the pride of being the citizens of the world's largest republic, India. On this day, 73 years ago, a new sun of the Republic rose in our country.
"I urge the citizens to ensure their participation in the welfare of the society and take a resolve, I will take only what I deserve, I should get what I am entitled to, and will not take any benefit that I am not entitled to," asserted the Chief Minister.
We are proud of being called as 'government of portals'
Sending a strong and clear message to those who call 'Manohar Sarkar' a government of portals, the Chief Minister said, we have ensured the maximum use of IT in the governance so as to minimize human intervention. The result of this is that today people are getting government services, schemes and other benefits at their doorstep.
"Our government is often called the 'government of portals'. I am proud of being called as 'government of portals', through these portals we have introduced paperless and faceless governance in Haryana. During our tenure, we have launched more than 100 apps and portals that have ensured transparency in the distribution of benefits of schemes and services. Now every eligible person is getting their benefits, while the ineligible ones are being identified," said Sh. Manohar Lal.
He said that it is only because of the portal system that today the benefits of Shagun Yojna, old age pension, and scholarships of students are being directly reached to the accounts of the beneficiaries with just one click.