Mulayam, SM Krishna, Zakir Hussain, KM Birla get Padma awards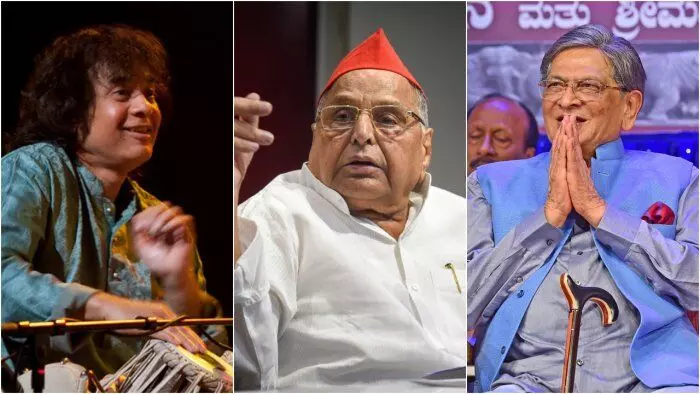 Dilip Mahalanabis, a doctor from Bengal who pioneered the wide use of Oral Rehydration Solution (ORS), will be conferred with the Padma Vibhushan posthumously.

Three more from Bengal — Dhaniram Toto, Mangalakanti Roy and Ratan Chandra Kar — are on the list of Padma awardees.
The Government of India on Wednesday announced the list of unsung Padma awardees 2023.
Mahalanabis will receive India's second-highest civilian award. He had been instrumental in the use of ORS, which is estimated to have saved over five crore lives globally, said a government release. Mahalanabis died in Kolkata last October.
Dhaniram Toto from Jalpaiguri district will receive the Padma Shri award in the field of Literature & Education (Dengka language).
The other Padma Shri recipient from the state is Mangalakanti Roy who has contributed immensely towards 'Palligeeti'.
Ratan Chandra Kar will also receive the Padma Shri for his work for tribal people in Andaman and Nicobar Islands.
Meanwhile, former Uttar Pradesh Chief Minister Mulayam Singh Yadav, former External Affairs minister in the UPA government S M Krishna and tabla maestro Zakir Hussain were among six luminaries selected for the country's second highest civilian honour Padma Vibhushan.
According to an official statement released on the eve of Republic Day, Yadav, Mahalanabis and noted architect Balkrishna Doshi were selected for the Padma Vibhushan posthumously. No one has been named for the Bharat Ratna, the country's highest civilian award.
Prime Minister Narendra Modi tweeted his congratulations to those who have been conferred the Padma Award.
"India cherishes their rich and varied contributions to the nation and their efforts to enhance our growth trajectory," he said.
US-based mathematician Srinivas Varadhan was also selected for the Padma Vibhushan award.
Author Sudha Murthy were among nine people awarded Padma Bhushan, the statement said.
Rakesh Jhunjhunwala (posthumous), actor Raveena Tandon, Manipur BJP president Thounaojam Chaoba Singh were among 91 luminaries awarded the Padma Shri award.
These awards are conferred by the President at ceremonial functions which are held at the Rashtrapati Bhawan usually around March or April every year.
For 2023, the President has approved the conferment of 106 Padma awards, including three duo cases (in a duo case, the award is counted as one).
Nineteen of the awardees are women and the list also includes two people from the category of Foreigners/NRI/PIO/OCI and seven posthumous awardees.
Padma awards, one of the highest civilian awards of the country, are conferred in three categories, namely, Padma Vibhushan, Padma Bhushan and Padma Shri.
The awards are given in various disciplines or fields of activities — art, social work, public affairs, science and engineering, trade and industry, medicine, literature and education, sports, civil service, etc.
'Padma Vibhushan' is awarded for exceptional and distinguished service, 'Padma Bhushan' for distinguished service of high order and 'Padma Shri' for distinguished service in any field.
The awards are announced on the occasion of Republic Day every year.