Attack on Abhishek's convoy: 4 held, interrogations underway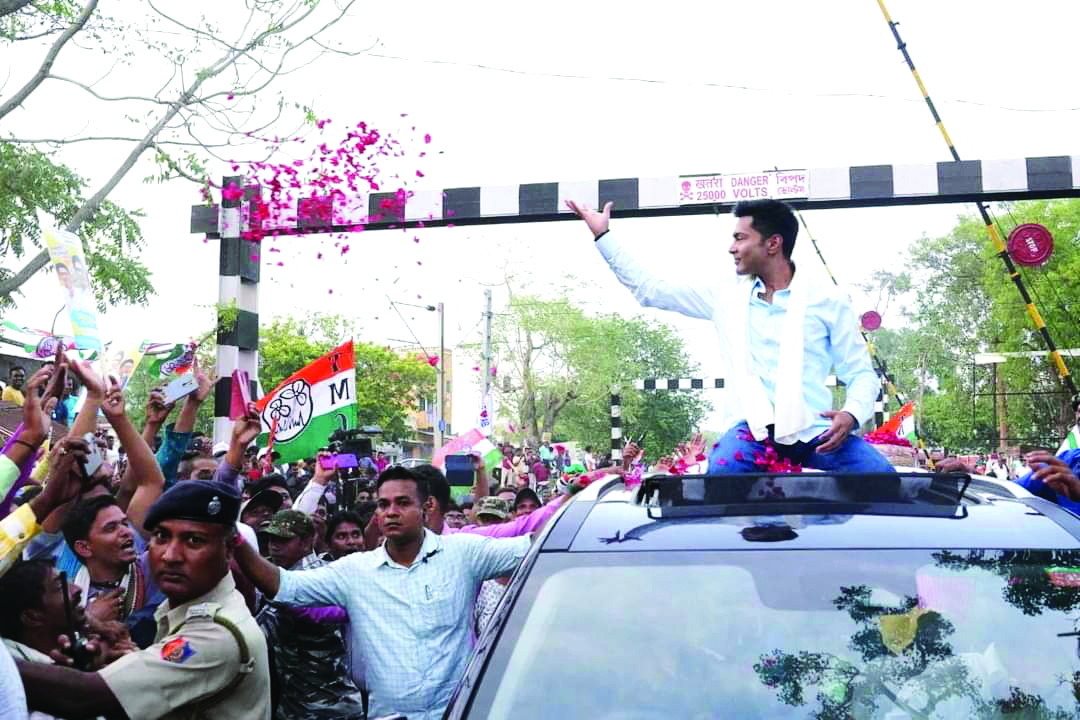 kolkata: Jhargram district police early on Saturday arrested four people for allegedly attacking the convoy of Trinamool Congress national general secretary Abhishek Banerjee on Friday night.

The arrested people have been identified as Anup Mahato, Ajit Mahato, Amit Mahato and Monomit Mahato. All four were said to be local residents and were allegedly involved in the incident, police said.
A case was registered in connection with the attack on Abhishek Banerjee's convoy in Jhargram.
Interrogations of the arrested persons were on, which could lead to more arrests in the case, sources said.
Minister of state Birbaha Hansda's vehicle was vandalised in Salboni in West Midnapore on Friday as members of the Kurmi community allegedly hurled stones at Abhishek Banerjee's convoy, in which she was travelling.
Meanwhile Abhishek hinted that the BJP might have fueled the incident. "These 'protesters', are claiming to be from the Adivasi community. Why do they have the slogan of 'Joy Shree Raam' on their lips, rather than 'jai goram'?" he said.
In a press statement issued on late Friday night, he said: "We want to give heads of the adivasi kurmi community 48 hours to clear their stand on Friday's violence. If you don't, we will have to assume that you, too, were involved".
Meanwhile, the Kurmi community made their stand clear on Saturday and condemned the attack on Abhishek Banerjee's convoy. A key figure in the Kurmi community Manta Ajit Prasad Mahato in his statement condemned the incident of attack and demanded stringent action against the culprits.
There is a split in the Kurmi community which is quite evident as the protest agitation was organized by 'Ghaghar Gherao Kendrio committee' which is an amalgamation of four organisations within the community.
Abhishek on Saturday joined "Trinamool-e-naba-jowar" campaign alongside his party supremo Mamata Banerjee. He has been on the road for the 32nd on Saturday as the 'Jano Sanjog Yatra' has been going on. "So far, party workers from over 40,000 booths have come and cast their votes at our Adhiveshan. Today, we are privileged to have West Bengal Chief Minister and Trinamool Congress chairperson Mamata Banerjee in our presence. When we started our campaign, my critics and the opposition leaders in Bengal had made a huge fuss about it, they had claimed that I wouldn't manage to stay on the road for even six days, let alone 60. However, today is our 32nd day on the road. In this time period, we have faced storms, searing heat, thundershowers, oppositions' taunts, CBI's harassment, but none has been able to stop Trinamool Congress' determination," Abhishek said adding: "Opposition leaders had thought that by letting CBI and ED behind me, they would break my resolve. However, they don't realise that 'Nabo Jowar' has now become 'Jono Jowar'. The love and blessings of the people from all the districts have made us humble."