Anandapuri shootout: Two miscreants held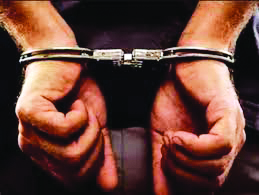 KOLKATA: Barrackpore City Police have nabbed two miscreants in connection with the shootout in Anandapuri area a few days ago.

Police informed that the accused persons identified as Safi Khan and Jamshed Ansari were arrested from Rahara in near Sodepur and from Murarai in Birbhum.
On Friday forensic experts visited the jewellery shop where the shootout had taken place on Wednesday evening. On Friday Deputy Commissioner of Central Division of Barrackpore City Police, Asish Maurya said that acting on a specific information, they have arrested two persons and seized a motorcycle.
The two-wheeler was abandoned by the miscreants while fleeing after the robbery on Wednesday. Among the two arrested, one was in the police radar.Sources informed, cops are suspecting involvement of Jharkhand based criminals. However the motive of the murder is still not clear. On Wednesday evening the owner of the jewellery shop identified as Nilratan Sinha, opened the store near the rail gate number 14 in Anandapuri. Apart from him, his son Niladri Sekhar Sinha and a few shop employees were also present in the shop.
Four miscreants suddenly entered the shop covering their faces with helmets and masks and began threatening Nilratan.
When Niladri attempted to stop them, one of the attackers shot him. They also fired three more rounds which hit Nilratan and another employee of the shop.
Family members suspect that it is not a case of robbery. They are apprehending that some plan was there behind the attack and robbery.